Over the past 20 years, I figure I've written a couple hundred songs, even if I've only arranged and recorded a quarter of them. Lyrics often don't represent well as poetry because of the inherent limitations of writing within very strict rhythmic/syllabic parameters (not to mention the absence of their supporting melody and instrumentation), so take from them what you can. Plus, I have a tendency to rhyme most of them, which many modern poets frown upon. Leonard Cohen, Tom Waits, Roger Waters—these guys are my inspiration, all of them songwriters and not just lyricists. I also dig e.e. cummings, Bukowski, Millay, and Rimbaud.
Submission Windows (below) collects my favorite original lyrics, however, please enjoy these lyrics to the produced songs you'll find on my Music page, including the companion PDF to my 2015 Finding the Light album.
The Sacred and Profane
Toasted (Last Call)
Stale Air
The Trouble With Good Advice
Music Inside
Words
"Finding the Light" digital booklet with lyrics (PDF)

Submission Windows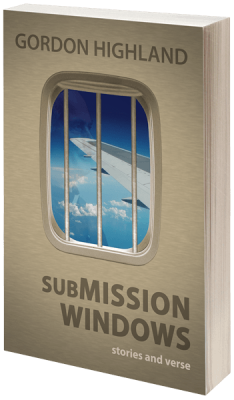 I've never published any of my verse before, so I'm excited (and a little terrified) to now offer this collection. You'll find 41 of my favorite poems and lyrics bridging the gaps between its 26 short stories. I spent months compiling, sequencing, and designing it, as well as writing appendix notes about each entry.
Submission Windows are vantage points—whether they be prison bars, stained church glass, or a vicarious lens—for peeking in on (or out from) surgeons, killers, priests, perverts, inmates, athletes, musicians, and more than a few celebrities past their prime. Most of them clinging to frayed ropes of their own making, desperate for redemption, love, or merely an enduring pulse. For others, it's their ambition on display, destined for humility. Just some troubled characters inviting you to watch.
Click here for TABLE OF CONTENTS





paperback, 269 pages




The Kindle edition is free if you buy the paperback through Amazon (MatchBook program).



If you'd like to review Submission Windows for an established media outlet, please e-mail me for a copy.