Submission Windows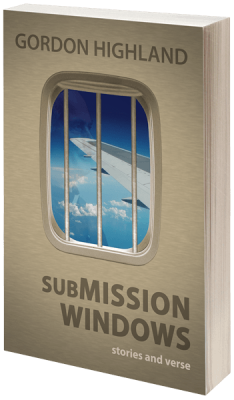 Prison bars. Stained church glass. Deadlines precursing rejection. These are Submission Windows: vantage points for peeking in on—or out from—surgeons, killers, priests, perverts, inmates, athletes, musicians, and more than a few celebrities past their prime. Most clinging to frayed ropes of their own making, desperate for redemption, love, or merely an enduring pulse. For others, it's their ambition on display, destined for humility.
These voyeuristic and vicarious vignettes include 26 short stories bridged by several dozen poems exclusive to this collection, and a story notes appendix. No theme, no genre … just some troubled characters inviting you to watch.
Click here for TABLE OF CONTENTS


paperback, 269 pages: $9.99




e-book: $2.99
I'm thrilled to announce this collection, because it represents nearly everything (novels aside) from this phase of my fiction-writing career. All those links below to each published story online or in print that you couldn't find time to (or afford to) chase down individually, now they're all in one book, priced to move. Fifteen other stories have never appeared anywhere before, nor have any of its poems. I spent months compiling, sequencing, and designing it, as well as writing notes about each entry. Genres are all over the place, including noir, domestic, magic realism, coming-of-age, and others I can't define. And a lot of black comedy. So there's something for everyone. Except kids; keep them away from this … y'know, unless you're an adventurous, open-minded parent.
If you'd like to review Submission Windows for an established media outlet, e-mail me for a copy.
Media
"Fry Girl" live reading (video)
"Epicurean" live reading (video)
Reviews
Interviews
LitReactor Community Spotlight
TW Brown (Zomblog)
Stories In Print
"'Burgatory"
published in Solarcidal Tendencies (June 2014)
A life insurance salesman faces his own mortality as planes of the multiverse collide.
"Plan E"
published in The Tobacco-Stained Sky: An Anthology of Post-Apocalyptic Noir (Sept 2013)
Back-alley surgeon refuses to perform an abortion on a privileged woman in trouble.
"Bokeh"
published in The Booked. Anthology (July 2013)
A photographer seeks inspiration for his unfocused, periphery-obsessed soul.
"Untitled Stephenie Meyer Novel"
published in Noir at the Bar Vol. Two (Sept 2012)
Twilight mania proves to be a dangerous aphrodisiac for the opportunistic.
"Fry Girl"
published in …In Search of a City: Los Angeles in 1,000 Words (Nov 2011)
An aging model recounts her tale of the suicidal childhood friend she once talked down. That time. Watch a live reading from Czar Bar in Kansas City.
"Headshot"
published in Warmed and Bound: A Velvet Anthology (July 2011)
Home invasion tale with a Hollywood twist.
Stories Online
"Ephemeralia"
published at Black Heart Magazine (June 2013)
Terminally-ill actor tries to make some quick cash while amending his assholic legacy.
"Shivaree"
published at ManArchy Magazine (Oct 2012) (via archive.org, site offline)
Halloween tale about getting nosy with noisy neighbors.
Exclusives

"In Spirit and Larceny" (May 2012)
Social media for the criminal set.