My short story, "Untitled Stephenie Meyer Novel" (originally published in the Oprah Read This project) has found a new home in Noir at the Bar Vol. 2, an anthology available in paperback exclusively from Subterranean Books. "Stephenie" is a newly-revised version of my disturbing little tale about the aphrodisiac qualities of unreleased Twilight material in the hands of the opportunistic.
The first Noir at the Bar volume was one of the year's best-selling books in St. Louis, as well as a Spinetingler award-winner for best cover, so when I was invited to take part in the live-reading series of its namesake last winter, I of course hopped the first thing smokin' and doused myself in alcohol for the occasion. Here's a recap of the event.
Volume Two, once again collected and edited by noir czars Jedidiah Ayres (A F*ckload of Shorts) and Scott Phillips (The Ice Harvest) features well-known crime/noir authors as well as emerging ones, none of whom should be entrusted with your liquor cabinet or spouse's company or firearms. Which also means I'm humbled to share pages with them. In addition to selections from Ayres, Phillips, and myself, the other contributors include:
Duane Swierczynski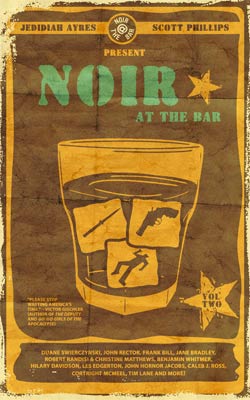 John Rector
Benjamin Whitmer
Frank Bill
Hilary Davidson
Fred Venturini
Caleb J Ross
Jane Bradley
Les Edgerton
David James Keaton
John Hornor Jacobs
Robert J. Randisi & Christine Matthews
Jesus Angel Garcia
Matthew C. Funk
Cortright McMeel
Kevin Lynn Helmick
Mark W. Tiedemann
Nate Flexer
Glenn Gray
Matthew McBride
Aaron Michael Morales
Jason Makansi
Tim Lane
Nic Young
Sonia L. Coney
Erik Lundy
Jon McGoran
Booked podcast reviews the anthology in Episode 109. Also see their previous three episodes for interviews with the linked authors above.
As always, here's where you can find all my published short stories.