For you digital adopters, an early release of my new novel, Flashover, is now available for Kindle and Nook at $5.99. The paperback will be out next month at the usual online shops, and I'll hook up a PayPal for those who want to order signed copies directly. Between now and then, I'll be ramping up my promotional efforts, and I appreciate any support you can provide in that area. Please contact me with any media inquiries or for review copies for your established publication/site.
It's been a long road, and I'm both relieved and excited to finally share this with everyone. Flashover is a more mature novel than my first (though admittedly not as funny), with broad commercial appeal and some familiar themes that I of course twist in subversive ways. When I began writing it about three-and-a-half years ago, no other titles of the same name came up in search results, so it's a little disheartening to see there are five or six of them out there now — everything from romance novels to procedurals — even one with a surprisingly-familiar premise as mine . . . but don't be fooled, just look for the wicked painting of the blue-shirted dude clutching a rosary in his bloodied palm.
Synopsis and links below.
___________________________________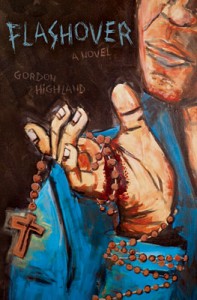 Electrocution and a two-story fall from a church rooftop leave former musician Tobe Mohr deaf, burned, and broken. A guilt-wracked priest invites him to live in the vacant rectory during his recovery, where many townsfolk believe Tobe — despite his own skepticism — has developed clairvoyance in his return from death. Adapting to rural life after having toured the world's stages, Tobe forms an intense relationship with the enchanting Sera and her daughter. But their disappearance forces him to embrace his rewired senses that have helped so many others, as he navigates Sera's mysterious past to find them, and to become once again the man he thought died long ago.
paperback, 276 pages: $13.00
e-book: $5.99
Sample (Ch. 1 & 2)

Other e-book formats (PDF, etc.) may be purchased through Smashwords.


Click only for signed/personalized paperbacks (shipments may be delayed a week or so).


Reviews
GoodReads (listing)
LitReactor (book club discussion)


Interviews
Booked Podcast (mostly about Warmed and Bound)
Word Riot (coming July 15)
Curiouser and Curiouser (coming July 31)