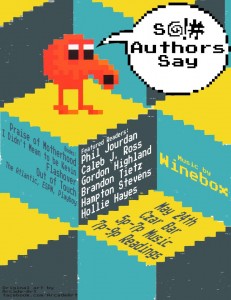 Come downtown and enjoy some double-threat entertainment from yours truly and friends at this reading and music event. We stage these at bars whenever possible to encourage more raucous audiences, as well as the loosened morality that alcohol enables. For the participants, too, because a shot of Jameson can help calm the nerves when you're preparing to read a story about the kinds of depraved scenarios that populate my friends' imaginations.
In addition to whatever awesome slice(s) of storytellery I recite that night, several other authors will be trying to best me with their own. These include such characters as Phil Jourdan (author of Praise of Motherhood), and locals Caleb J Ross (I Didn't Mean to be Kevin), Brandon Tietz (Out of Touch), Hampton Stevens (The Atlantic, Playboy), and Hollie Hayes.
Warming up your heart-cockles before all this literary lechery will be my acoustic duo, Winebox, performing singer-songwriter, rock, and pop music. This will likely be our first public show under that moniker, so Shannon and I are super excited about that. Maybe we'll even bust out an '80s tune or two in honor of ole Q-Bert up there.
It will be an evening of lies, fantasies, death, and a few laughs. Maybe some stories mixed in there as well. I realize the music starts pretty early for a weeknight, but I talked to your boss, and s/he said you could totally skip out early. Me, I'm taking the day off and making a long weekend out of the Memorial Day holiday. Why not do the same?
Click the image above to embiggen the flyer.

$@!# Authors Say (Facebook event page)
Thursday, May 24, 2012
5:00 – 7 pm Winebox
7:00 – 9 pm author readings
Czar Bar
1531 Grand Blvd.
Kansas City, MO 64108


View Larger Map