It's here, y'all. Last week I posted about my new novel, Flashover, and its e-book release. Today sees the paperback edition on sale, via Amazon, BN, and CreateSpace. I'm so excited to finally be able to share this with the world, over three years in the writing. All the buy links are below, p-books and e-books. I recommend Amazon because you can bundle it with other stuff and get free shipping. However, for the same price, CreateSpace pays me a higher royalty, because it's direct from the publisher (just sayin'). Also, if you buy a paperback, I'm happy to send you its companion e-book for free; just e-mail me your receipt and format of choice.
You won't find Flashover on your local shelves, but any shop should be able to order it for you (with upfront payment), or just catch me at an event, like the $@!# Authors Say reading May 24th at Czar Bar in downtown Kansas City, the How's My Hair reading at Prospero's Books on May 26th, or Los Angeles mid-July. Otherwise, signed copies are available by mail using the Buy Now link below.
Of course I hope you'll tell your friends, and I always encourage sharing your opinions at your favorite social sites, especially Goodreads or Amazon. Should you lose this post, you can always find my stuff under those categories at the top of the homepage.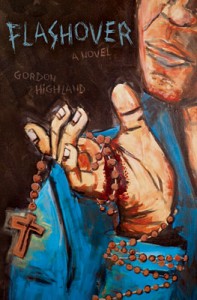 Electrocution and a two-story fall from a church rooftop leave former musician Tobe Mohr deaf, burned, and broken. A guilt-wracked priest invites him to live in the vacant rectory during his recovery, where many townsfolk believe Tobe — despite his own skepticism — has developed clairvoyance in his return from death. Adapting to rural life after having toured the world's stages, Tobe forms an intense relationship with the enchanting Sera and her daughter. But their disappearance forces him to embrace his rewired senses that have helped so many others, as he navigates Sera's mysterious past to find them, and to become once again the man he thought died long ago.
paperback, 276 pages: $13.00
e-book: $5.99
Sample (Ch. 1 & 2)

Other e-book formats (PDF, etc.) may be purchased through Smashwords.


Click only for signed/personalized paperbacks (shipments may be delayed a week or so).


Reviews
GoodReads (listing)
LitReactor (book club discussion)
Spinetingler Best Crime Fiction of 2012


Interviews
[wpaudio url="https://gordonhighland.com/wp-content/uploads/mp3/BooksAndBoozeEp6.mp3″ text="Books and Booze – Ep6: Gordon Highland" dl="0″]
Booked. Podcast (mostly about Warmed and Bound)


Media
[wpaudio url="https://gordonhighland.com/wp-content/uploads/mp3/prosperos_flashover.mp3″ text="Flashover Ch. 1: Biorhythms @ Prospero's Bookstore, Kansas City" dl="0″]
[wpaudio url="https://gordonhighland.com/wp-content/uploads/mp3/meshuggah_flashover.mp3″ text="Flashover Ch. 7: Flashover @ Meshuggah Cafe, St. Louis" dl="0″]