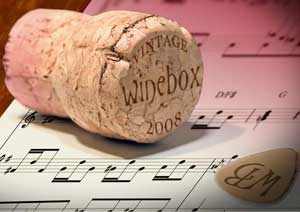 Word on the grapevine is that I've got a new musical duo for you to feast your earballs upon. Winebox has actually been cellaring for a number of years in various states of activity, and is now mature and ready to rock.
Some of you remember my former band, Molly's Crush: a regional '80s tribute act (in which I was the guitarist) with Shannon Lipps on the mic. Winebox reunites the two of us musically. As exciting as the 'Crush era was, we said the next time we convened, we wanted to strip things down, simplify, and frankly … just play the kind of music we wanted to hear ourselves.
The result is a mix of our favorite tunes from the last 30-odd years, much of it singer-songwriter material—and all of it soulful—with classic/modern rock, torch songs, and some jangly stuff. It's acoustic, after all. Shannon handles the vocals and percussion, and I'll be on guitar, piano, and harmonies. Listen for us to rock some originals in the same musical vein as well, with backing band tracks recorded in my home studio for a fuller sound.
Visit our official Winebox page on Facebook for the show calendar, pics, videos, etc. And of course, please "like" us, so we can keep you in the loop about news and events. Meanwhile, here are some brand new demos to tide you over, plus a few promo shots. If you lose track of this post, you can always find the same info up there under the Music menu. We'll probably start off with some smaller shows and shared bills in late April or early May here in Kansas City, and we can't wait to see everyone out there soon!

Press Kit

[audioplayer file="https://gordonhighland.com/wp-content/uploads/mp3/Toasted-Last-Call.mp3″ titles="Toasted (Last Call)" artists="Winebox" initialvolume="80″ track="FFFFFF" width="480″ animation="no"]
[audioplayer file="https://gordonhighland.com/wp-content/uploads/mp3/The-Sacred-and-Profane.mp3″ titles="The Sacred and Profane" artists="Winebox" initialvolume="80″ track="FFFFFF" width="480″ animation="no"]
[audioplayer file="https://gordonhighland.com/wp-content/uploads/mp3/Stale-Air.mp3″ titles="Stale Air" artists="Winebox" initialvolume="80″ track="FFFFFF" width="480″ animation="no"]
[audioplayer file="https://gordonhighland.com/wp-content/uploads/mp3/Barton-Hollow.mp3″ titles="Barton Hollow" artists="Winebox (The Civil Wars)" initialvolume="80″ track="FFFFFF" width="480″ animation="no"]
[audioplayer file="https://gordonhighland.com/wp-content/uploads/mp3/In-Your-Eyes.mp3″ titles="In Your Eyes" artists="Winebox (Peter Gabriel)" initialvolume="80″ track="FFFFFF" width="480″ animation="no"]
[audioplayer file="https://gordonhighland.com/wp-content/uploads/mp3/Shadowboxer.mp3″ titles="Shadowboxer" artists="Winebox (Fiona Apple)" initialvolume="80″ track="FFFFFF" width="480″ animation="no"]