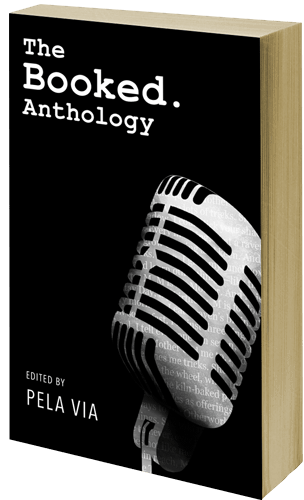 First of all, if you've never listened to Booked. Podcast before, I'll wait while you get clicky and download some eps. Or stream it—whatever—just get it in you by any means. Odds are good they've reviewed something you're thinking about reading, or talked to your favorite authors, and dropped some knowledge and smack and hilarity. They do so weekly, with nearly 160 archived episodes to keep you busy. As a guest, friend of the show, and fan, I was of course stoked to pen a new short story for them when word came down that hosts Robb Olson and Livius Nedin were assembling The Booked. Anthology, now available from Amazon or B&N in paperback or Kindle.
Look at this lineup! It's intimidating to be included in a roster of such explosive talent and handsomeness, but this is my privilege. You'll notice there's a lot of overlap with the contributors to the successful Warmed and Bound anthology. That's because Booked undertook a special marathon interview series about W&B, and TBA is comprised of stories—each brand new—by former show guests. That's just the law of averages in action. Once Robb and Livius curated the stories, they enlisted editor Pela Via to work with each of the authors in squeezing maximum awesomesauce out of them.
I've met and caroused with 17 of these folks (if you count the editorial staff), and have an online rapport with all but a few. What they may lack in virtue or decorum is more than made up with wicked prose chops. They'll kick your ass, break your heart, and have you thanking them for it. Table of Contents:


Fred Venturini – "Pound of Flesh"
Craig Clevenger – "The Confession of Adelai Shade"
Cameron Pierce – "California Oregon"
Paul Tremblay – "Scenes From the City of Garbage and the City of Clay"
Caleb J Ross – "The Removal Kind"
Seth Harwood – "To The Bone"
Craig Wallwork – "Think Tank"
Mark Rapacz – "Manger Dog"
Todd W Brown – "Faces on the Milk Carton"
Joshua Alan Doetsch – "The Mulligan"
Axel Taiari – "Your Savior"
Nikki Guerlain – "Children of the Wetlands"
Matthew C Funk – "Real, Live Ghosts"
Nik Korpon – "Straight Down the Line"
Richard Thomas – "Surrender"
Amanda Gowin – "Short Tendon"
Bob Pastorella – "Take My Breath Away"
Kevin Lynn Helmick – "Noir's City"
Gordon Highland – "Bokeh"
Sean P Ferguson – "Two Dollar Beer Nights"
David James Keaton – "Dragon By the Dumpster"
Christopher J. Dwyer – "Coralee"
Anthony David Jacques – "Tropicalia"
Chris Deal – "Where the Water Met the Sky"
Michael Paul Gonzalez – "One Shot (Only God Knows)"
______________________________________________
Robb Olson – "Edgewater Red Eye" (Kindle only)
Pela Via – "The Donna Motels" (Kindle only)


As for "Bokeh," my idea was to craft a love letter to reading: something involving a bookstore and the tactoid pleasures of the printed page. After widening my scope to include the creative process as a whole, I reframed it through a photographic lens instead of a literary one, whose challenges and insecurities are the same. I asked myself why I devote so much of my own life to chasing the imaginary, deciding that, as for many creators, it fills some social or familial void. The title is a Japanese photographic term referring to the qualities of the unfocused areas in a picture (determined by its choice of lens), having both literal and metaphorical meaning for this character and his obsession with periphery. "Bokeh" is my most personal story to date, and not merely because its first half is absolutely true. The photo in question remains tucked away in some forgotten book on my shelf, its subject unknown.


Listen to my Booked. interview, Episode #33 from 7/31/11.
Listen to my reading from Noir at the Bar, Episode #68 from 3/13/12.
Listen to the Booked. review of Flashover, Episode #89 from 5/26/12.
As always, you'll find links to all my published short stories here.