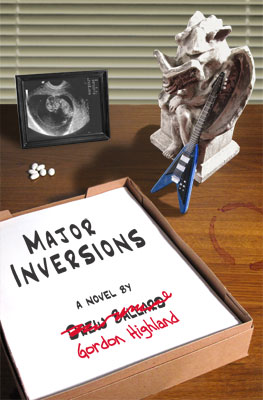 My first novel, Major Inversions, is now available for online ordering through Amazon and CreateSpace in paperback, as well as a Kindle edition. FYI, though the cover price is the same, CreateSpace pays me a much higher royalty, so help support your independent author! Since it's listed with most of the largest book distributors, it's also available through most e-tailers, plus you should now be able to walk into nearly any bookstore and custom-order it, though you may have to pay up front.
______________________________
Your roommate says you should date more, that all those spandex nights on stage paying tribute to hair metal and banging faceless groupies only amplify your Jekyll/Hyde syndrome. That this quicksand town of floozies, fiends, and filmmakers will survive without your commercial jingles. And your narcotics. That you should turn in your daytime security-guard badge and settle down.
He's got the perfect girl, a cinnamon-scented innocent who will bring that elusive substance to your life despite the familial forces that conspire against your union.
Always lurking in the periphery, the roommate remains buried in his Master's thesis, the parasitic puppeteer behind your reinvention, the search for your birth parents, and your all-too-brief film scoring career. A supporting cast of lecherous directors, deluded bandmates, federal agents, and nostalgic exes enable and obstruct your path to closure and ironic revenge as you wash the blood from your hands to complete the story yourself.
______________________________
Yes, this is self-published. No, it's not through a "vanity press." Of course that doesn't make it any less vain or narcissistic to think one's work is worthy of readership. It's indeed true that I first ran this book through the publishing machinery for two years in the hopes of securing an agent and/or reputable publishing house to distribute and market it. Every writer wants that external validation that comes with a publisher saying he's "good enough" to join their stable. I've never lacked for that confidence, nor been rebuked on merit, it was just never the right fit or the right time.
We all know the economy's in the shitter. The publishing biz is far from immune, especially with the increasing focus on tentpole/franchises and celebrity nonfiction. I have nothing against publishers – I appreciate their role as stoic gatekeepers of quality control (and I'll be jumping through their traditional hoops once again when my next book, Flashover, births) – but they must embrace new media to remain relevant, and find a way to turn profit in today's market by featuring more voices each earning a smaller audience share.
Believe me, I get it: as a video professional, I'm often annoyed with YouTube culture's amateur influence on broadcasting, just as I don't care for much electronic music. But content is king. A great song is a great song, whether it was tracked at Abbey Road or my bathroom. So goes it with storytelling. For the purposes of this twisted little metafictional tale I'm labeling a "revisionist character study," it was more important to me that the book be available to the public while the story's still relevant than it was to feel the warm embrace of industry love.
So think of me as the unsigned band hawking discs out of his trunk. Maybe I'll sign with a major label someday, but for now you get the raw1, snarling2, punk3 energy of those early years. And you'll always be able to say with nostalgia that you knew me back when. So tell a friend, please, and happy reading.
1 eh, it's actually pretty polished, I think
2 let's say cynical and irreverent instead
3 more like hair-metal