Everything on this page was written, recorded, and performed by myself (unless otherwise noted) in my home studio, which is detailed on the Gear page. Any Flash or Winebox MP3s may be freely distributed for your enjoyment, as long as this site or page is credited or linked back. They may not be synchronized to other media, broadcast, or resold without my permission. All songs © Saltytunes Music, except where noted. Lyrics available here.
Please visit my Last.fm page, where most of these tracks are available for playlisting and social networking.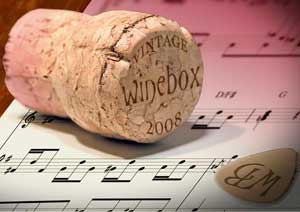 Winebox reunites me with Shannon Lipps (formerly of Molly's Crush, below). We had said that the next time we convened musically, we wanted to strip things down, simplify, and frankly … just play the kind of music we wanted to hear ourselves.
The result is a mix of our favorite tunes from the last 30-odd years, much of it singer-songwriter material—and all of it soulful—with classic/modern rock, torch songs, and some jangly stuff. It's acoustic, after all. Shannon handles the vocals and percussion, and I'm on guitar, piano, and harmonies. Listen for us to rock some originals in the same musical vein as well, with backing band tracks recorded in my home studio for a fuller sound.
Visit our official Winebox page on Facebook for the show calendar, pics, videos, etc. And of course, please "like" us, so we can keep you in the loop about news and Kansas City shows. Meanwhile, here are some demos and promo shots to tide you over.

Press Kit
Audio clip: Adobe Flash Player (version 9 or above) is required to play this audio clip. Download the latest version here. You also need to have JavaScript enabled in your browser.
Audio clip: Adobe Flash Player (version 9 or above) is required to play this audio clip. Download the latest version here. You also need to have JavaScript enabled in your browser.
Audio clip: Adobe Flash Player (version 9 or above) is required to play this audio clip. Download the latest version here. You also need to have JavaScript enabled in your browser.
Audio clip: Adobe Flash Player (version 9 or above) is required to play this audio clip. Download the latest version here. You also need to have JavaScript enabled in your browser.
Audio clip: Adobe Flash Player (version 9 or above) is required to play this audio clip. Download the latest version here. You also need to have JavaScript enabled in your browser.
Audio clip: Adobe Flash Player (version 9 or above) is required to play this audio clip. Download the latest version here. You also need to have JavaScript enabled in your browser.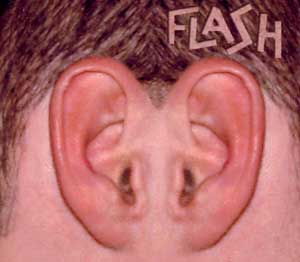 Flash is of course my nickname, but also the moniker I use for all my non-commissioned solo recordings. The fun stuff. Here are some selections from the archives—mostly recorded 10 or 15 years ago—in an eclectic mix of genres.
Audio clip: Adobe Flash Player (version 9 or above) is required to play this audio clip. Download the latest version here. You also need to have JavaScript enabled in your browser.
Audio clip: Adobe Flash Player (version 9 or above) is required to play this audio clip. Download the latest version here. You also need to have JavaScript enabled in your browser.
Audio clip: Adobe Flash Player (version 9 or above) is required to play this audio clip. Download the latest version here. You also need to have JavaScript enabled in your browser.
Audio clip: Adobe Flash Player (version 9 or above) is required to play this audio clip. Download the latest version here. You also need to have JavaScript enabled in your browser.
Audio clip: Adobe Flash Player (version 9 or above) is required to play this audio clip. Download the latest version here. You also need to have JavaScript enabled in your browser.
Audio clip: Adobe Flash Player (version 9 or above) is required to play this audio clip. Download the latest version here. You also need to have JavaScript enabled in your browser.
Audio clip: Adobe Flash Player (version 9 or above) is required to play this audio clip. Download the latest version here. You also need to have JavaScript enabled in your browser.
Audio clip: Adobe Flash Player (version 9 or above) is required to play this audio clip. Download the latest version here. You also need to have JavaScript enabled in your browser.
Audio clip: Adobe Flash Player (version 9 or above) is required to play this audio clip. Download the latest version here. You also need to have JavaScript enabled in your browser.
Audio clip: Adobe Flash Player (version 9 or above) is required to play this audio clip. Download the latest version here. You also need to have JavaScript enabled in your browser.
Audio clip: Adobe Flash Player (version 9 or above) is required to play this audio clip. Download the latest version here. You also need to have JavaScript enabled in your browser.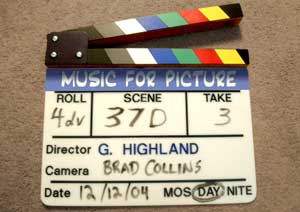 Here are some short music cues I've created over the past several years for multimedia productions (video/film/web). Because they're meant to synchronize with on-screen events, the timing may seem odd in spots. Most of these were produced very quickly on little or no budget, and I performed all the instruments, except on the the last two tracks, which feature Rod and Chad Caylor on drums and bass, respectively (I co-wrote, played guitar, and mixed).
Audio clip: Adobe Flash Player (version 9 or above) is required to play this audio clip. Download the latest version here. You also need to have JavaScript enabled in your browser.
Audio clip: Adobe Flash Player (version 9 or above) is required to play this audio clip. Download the latest version here. You also need to have JavaScript enabled in your browser.
Audio clip: Adobe Flash Player (version 9 or above) is required to play this audio clip. Download the latest version here. You also need to have JavaScript enabled in your browser.
Audio clip: Adobe Flash Player (version 9 or above) is required to play this audio clip. Download the latest version here. You also need to have JavaScript enabled in your browser.
Audio clip: Adobe Flash Player (version 9 or above) is required to play this audio clip. Download the latest version here. You also need to have JavaScript enabled in your browser.
Audio clip: Adobe Flash Player (version 9 or above) is required to play this audio clip. Download the latest version here. You also need to have JavaScript enabled in your browser.
Audio clip: Adobe Flash Player (version 9 or above) is required to play this audio clip. Download the latest version here. You also need to have JavaScript enabled in your browser.
Audio clip: Adobe Flash Player (version 9 or above) is required to play this audio clip. Download the latest version here. You also need to have JavaScript enabled in your browser.
Audio clip: Adobe Flash Player (version 9 or above) is required to play this audio clip. Download the latest version here. You also need to have JavaScript enabled in your browser.
Audio clip: Adobe Flash Player (version 9 or above) is required to play this audio clip. Download the latest version here. You also need to have JavaScript enabled in your browser.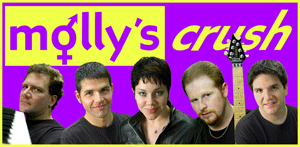 "A Musical Tribute to the '80s." This was a truly professional regional act with some high-caliber musicianship. We covered everything from Billy Idol to Talking Heads with a surprisingly soulful edge and the requisite dose of camp. Known for our genre-defying medleys, we kept the asses shakin' and the bar tab open. Co-stars: Dirk Manley (Ed Costin), Roxy Britannica (Shannon Lipps), and brothers Rocko Starr (Chad Caylor) and The Reverend (Rod Caylor). I played guitar and sang all the backups, and produced the demo.
Demo
Audio clip: Adobe Flash Player (version 9 or above) is required to play this audio clip. Download the latest version here. You also need to have JavaScript enabled in your browser.
Audio clip: Adobe Flash Player (version 9 or above) is required to play this audio clip. Download the latest version here. You also need to have JavaScript enabled in your browser.
Audio clip: Adobe Flash Player (version 9 or above) is required to play this audio clip. Download the latest version here. You also need to have JavaScript enabled in your browser.
Audio clip: Adobe Flash Player (version 9 or above) is required to play this audio clip. Download the latest version here. You also need to have JavaScript enabled in your browser.
Audio clip: Adobe Flash Player (version 9 or above) is required to play this audio clip. Download the latest version here. You also need to have JavaScript enabled in your browser.
Live Tracks
Audio clip: Adobe Flash Player (version 9 or above) is required to play this audio clip. Download the latest version here. You also need to have JavaScript enabled in your browser.
Audio clip: Adobe Flash Player (version 9 or above) is required to play this audio clip. Download the latest version here. You also need to have JavaScript enabled in your browser.
Audio clip: Adobe Flash Player (version 9 or above) is required to play this audio clip. Download the latest version here. You also need to have JavaScript enabled in your browser.
Audio clip: Adobe Flash Player (version 9 or above) is required to play this audio clip. Download the latest version here. You also need to have JavaScript enabled in your browser.
Audio clip: Adobe Flash Player (version 9 or above) is required to play this audio clip. Download the latest version here. You also need to have JavaScript enabled in your browser.
Audio clip: Adobe Flash Player (version 9 or above) is required to play this audio clip. Download the latest version here. You also need to have JavaScript enabled in your browser.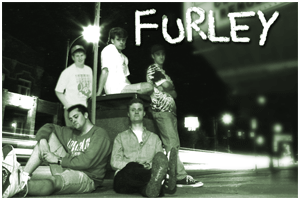 Spawned from a short-lived group called Pipe, this reunited the Mr. Salty trinity, adding a second guitar and bluesy vocals. Four-chord modern rock with southern tendencies, spanning Pearl Jam to Collective Soul to The Black Crowes. Best known for "Here I Go," an original tune that eventually got regional airplay, Furley was largely the house band at a Maryville, MO club called Molly's. Other players: Jon Kluiter, Pat Redd, Darin Casey, and Austin Howell. Darin and Austin split time with Des Moines favorite The McKenzies, for whom I also created a music/live promo video.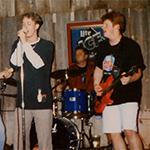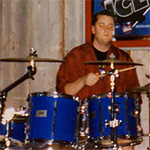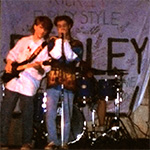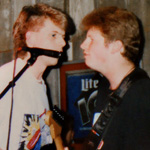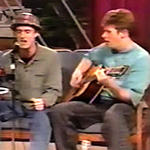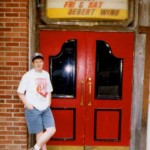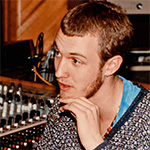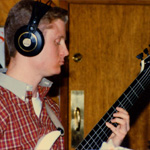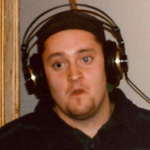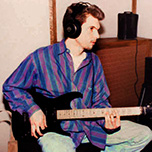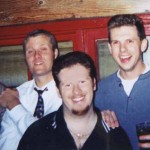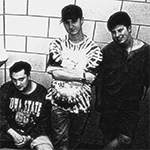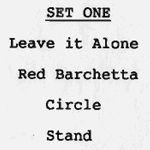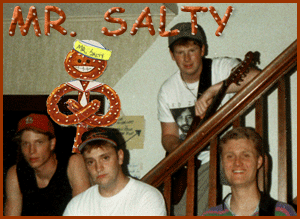 Hey, it's a better name than The Extreme Skid Halen Floyd Peppers, which summed up our influences at the time. My first gigging band came together from a series of internet postings, mutual friends, and some natural-selection jamming. The final gasp of pre-grunge metal, we covered GNR, Poison, Crüe, etc. for beer money, eventually recording a CD of original guilty pleasures called Life, Love, and Mediocrity (whose tracks I will not be sharing). Partners in crime: Tony Konecne, Jon Kluiter, and Darin Casey. Previous players included Nathan Carter and Chad Thompson.