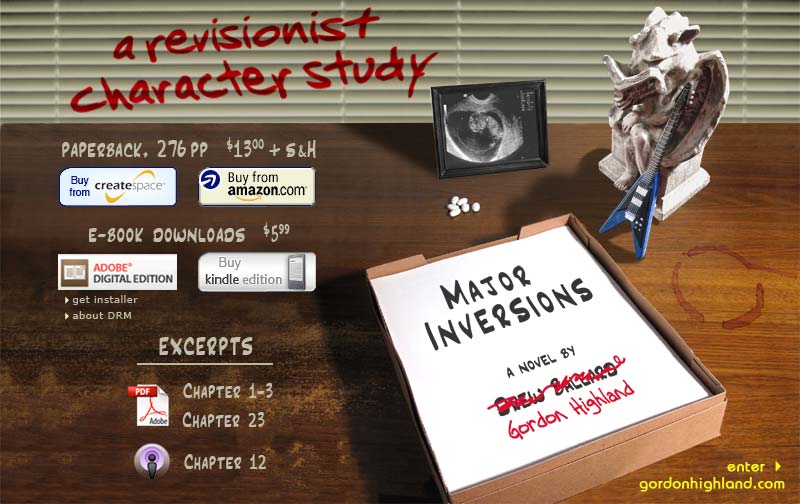 Your roommate says you should date more, that all those spandex nights on stage paying tribute to hair metal and banging faceless groupies only amplify your Jekyll/Hyde syndrome. That this quicksand town of floozies, fiends, and filmmakers will survive without your commercial jingles. And your narcotics. That you should turn in your daytime security-guard badge and settle down.

He's got the perfect girl, a cinnamon-scented innocent who will bring that elusive substance to your life despite the familial forces that conspire against your union.

Always lurking in the periphery, the roommate remains buried in his Master's thesis, the parasitic puppeteer behind your reinvention, the search for your birth parents, and your all-too-brief film scoring career. A supporting cast of lecherous directors, deluded bandmates, federal agents, and nostalgic exes enable and obstruct your path to closure and ironic revenge as you wash the blood from your hands in this revisionist character study that is Major Inversions.
________________________________
Fans of Chuck Palahniuk's subversive social satire and Nick Hornby's musical-lensed male insight should find an enjoyable companion in Major Inversions. The first-person tale takes advantage of a journalistic style, with simple language that intensifies as the conflict escalates. The author drew heavily from his own experiences as a musician, filmmaker, and guard to breathe life into the details.
Gordon Highland has been directing, producing, and editing videos professionally for 15 years, has written dozens of commercially-produced scripts, and reams of ad and print copy. Major Inversions is his first novel, and he's currently working on his second, Flashover.

Gordon lives in Overland Park, KS, where he also enjoys writing, recording, and performing music.
"More wit and verbal dexterity than you're likely to experience this year."
– Caleb J. Ross (Charactered Pieces, Stranger Will)
"While it's busy tickling you under the armpit, or across your bare feet, it's slipping in some food for thought,
something you'll carry with you, to mull over for awhile. Sneaky, this guy."
– Richard Thomas (Transubstantiate)
"Don't let the casual approach fool you; a closer look at his use of language and humour reveals meticulous care."
– Simon West-Bulford (The Soul Consortium)
"Highland undermines expectations—pulling out the rug on subplots—but each thread he weaves is all in service to a great story.
This is one of those novels that will completely exceed your initial impressions."
– Chris Deal (Cienfuegos)
"A stealth opus of sorts, borrowing from genres contemporary and historical. Greek Tragedy, Modern Comedy,
high concept film, mockumentary, on-the-road epic, musical, you name it, it's in here!."
– Michael Paul Gonzalez (Angel Falls)
"The narrative is incredible—startling in its showmanship. From each well-constructed sentence to the next,
the word-trickery strokes unloved parts of the modern word-nerd brain."
– Pela Via, Outsider Writers Collective
"It's got a high IQ and so many twists you'll need a chiropractor. Full of clever prose, wicked humor and colorful characters,
it's a story about the precarious nature of human personalities, and how close we are to completely losing it."
– Jason Kane, Oxyfication.net
"Major Inversions is at almost all times hilarious, and also full of heart and sincerity."
– Jesse Lawrence, The Velvet
All content © Gordon T. Highland
majorinversions@gdotcom.com